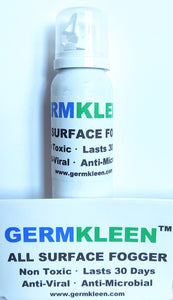 KLEEN FOGGER (1) One
Regular price
$34.99
$0.00
Unit price
per
Our Newest Product KLEEN FOGGER is a quick, efficient, and cost effective system for sanitizing and delivering environmentally friendly protection for your family, friends, and work force from harmful pathogens and viruses, in a complete coverage device that envelopes the entire area with a fine mist, fogging the area for up to 7 minutes, with coverage areas of up to approximately 500 sq. ft. It can be used safely in cars, yachts, emergency vehicles, buses, trains, aircraft, hotel and hospital rooms, retirement homes, public spaces to name a few, delivered with GERMKLEEN's non toxic, antimicrobial - antiviral protection that lasts up to 30 days, all in one application.  
EPA Cleared, GERMKLEEN's formula tested by an approved CDC Laboratory for efficacy against the COVID-19 Virus. 
* Due to high demand this item may be back ordered, so there may be a short wait time while we renew stock. 
---
Share this Product
---